About the Owners
Lee and Anne Kimball are the 8th owners of the Rogue River Lodge. Both veterans of the restaurant and hospitality industries, they have enjoyed coming to Medford for over eighteen years to visit family and dreamed of someday owning a retirement home along the Rogue River.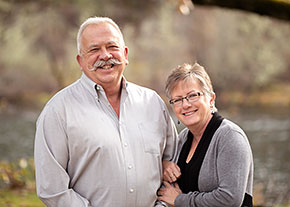 In the Spring of 2009, they learned that the lodge was for sale and decided to purchase this historic property. They could envision the potential opportunity that existed in restoring such a unique venue - utilizing their collective talents to create a new vision and era for the Lodge. After years of corporate restaurant/hospitality experience, they looked forward to moving to a new phase of their careers, running the day to day operations of the Lodge.
Lee oversees the day to day operations of the cabin and the property, while Anne facilitates the coordination of the event planning for the venue.